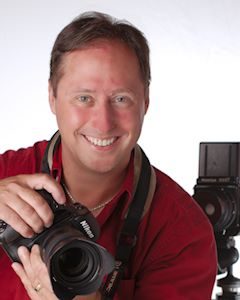 New for 2020: My hourly rate has gone up from $50 to $75 due to increased demand for my time.  Jobs scheduled before the price increase will be billed at the previous rate.
As a freelancer skilled in several fields, I can provides many different services.  Here are some general categories:
Photography (portraits, weddings, promotional photos, etc.)
Videography (live events, promotional videos, YouTube videos, family histories, etc.)
Business coaching / consulting
Copywriting (scripts, webpages, emails, ebooks, etc.)
Product development (books, CDs, DVDs, Blu-Rays, online products, etc.)
Print layouts (book covers, product cases, brochures, flyers, display ads, etc.)
Service fees are simple, and apply to all categories.  My rate is $75 per hour (with a 1-hour minimum), and there's a $100 "project fee" added to each job.  Commercial usage adds 50% to the price, which gives you a royalty-free commercial usage license to use my work as much as you'd like.

Travel fees only apply if the job is more than 50 miles away.  (I'm located on the NW side of Grand Rapids, MI.)
And clients are responsible for any incidental costs, such as music licensing, location rentals, talent fees, and so on.  Of course, I can manage these things for you, and include them into a single invoice (without any additional markup) to keep things simple and easy for you.
The project fee includes things like administration time, packing and transporting the required gear (if required), business equipment and insurance, software upgrades, education to hone my skills, and on and on.  All the stuff the client rarely sees, but allows me to provide the best quality service possible.
As you can imagine, this also means that larger jobs end up costing less per-hour than smaller jobs, so there's a built-in quantity discount.
To illustrate how this works out in practice, photographing an 8-hour wedding, with another 10 hours of culling and retouching gets priced at $1450. You would get all the photos I create from your wedding, in a variety of resolutions to use online, for prints, and more.  (And yes, I can have my professional lab make prints in any size and style you'd like.  I'll charge you for the time spent working with the lab, plus the lab's prices without any additional markup.)
Video recording a 2-hour event with multiple cameras and producing a high-quality DVD or Blu-Ray (usually requiring about 10 hours of editing) gets priced at $1000 plus incidentals (music licensing, mainly, generally in the $50 to $100 range).  If the DVD or Blu-Ray is used for commercial purposes (such as marketing, or as a product to sell), the final bill would be $1500 plus incidentals.
Having me design a 6-panel tri-fold brochure with provided images and text would be priced around $260 ($100 project fee, plus $75 for the hour, plus the 50% commercial usage fee), as this is a much quicker job to do.  Having me write the text for a brochure may take a few hours (that is, if you want the brochure to actually persuade people to call you), and could push the fee up into the $600 price range.  Add custom photography for the brochure, and the price goes up again.
Writing a webpage to sell a product is a service that can fit into a wide range of budgets, as a "quick and dirty" version may be cranked out in just 4 hours (at $600 — $400 for my time plus $200 for a commercial usage license) or a fully-professional version capable of bringing in a flood of sales may take around 40 hours to write, and be priced about $4500.  If your budget sits between these figures, just let me know and I'll adjust how I do the job to fit your budget.
Producing an AMAZING 60-second commercial rivaling those seen on national TV requires scriptwriting, actors, makeup artists, stylists, multiple locations of shooting, custom motion graphics, and more, which is why many of them cost $25,000 and more to produce.
Of course, a good-quality commercial may be created for much, much less.  I'm a strong believer in the Pareto Principle, otherwise known as the 80/20 rule.  You can get 80% of the results with only 20% of the effort and expense.
In fact, producing a "Video Business Card" where you get to introduce who you are, what you do, why you do it, and how you're different from others in your field may be done for around $1000, and can have a tremendous impact on your business.  This type of introductory video helps you make a stronger connection to those who may consider becoming a customer or client, as well as helping you stand apart from your competition.
Again, I can usually adapt how I do a job to fit your budget.
Let's Connect
If you're interested in having me work on a project with you, I'll need to find out a little about you, your business (if applicable), and the project you have in mind.
The best way to do this is for you to fill out my Project Discovery Form, which will guide you through a series of questions to help us define how I may best be of service.
If you're not a business, feel free to use the general contact form instead.
Otherwise, start by clicking here => Project Discovery Form